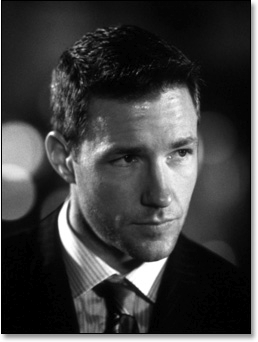 Sometimes we just don't feel like facing the music. No one knows this better than guy's guy Ed Burns, writer and director of the new film
The Groomsmen
, a tale of four buddies forced to face the reality of getting married and growing up. Here, UD chats with Ed about being a bachelor, getting hitched and how no rap can be the best rap of all.
UD: Groomsmen is all about not wanting to grow up. Do you think New York makes it hard for guys to mature?

EB
: Yes. It's the playground for adults. I think that's why here, most guys—and girls, for that matter—hang on to the party a little longer than they should.
UD: Did you?

EB
: Uh, yes I had a couple of moments there where I was like, I think I'm a little too old to be hanging out in this club.
UD: You grew up in New York. What were your favorite places to hit in the city when you were single?
EB
: Everything from a small, more divey bar like Barrow's Pub to whatever was the cool superhip hangout spot of the day. Back then, Moomba was a big joint, when I was a younger man...uh, I'm almost too embarrassed to mention them, I'm so far removed from that. I feel too cheesy to mention them.
UD: Your favorite off-the-beaten-path pick?
EB
: I like Piadina in the West Village, off 9th Street. It's this subterranean Italian place. It's dark, casual, the food is terrific, there's no pretension, it's a local regulars' joint. Also, it's newer and not necessarily off the beaten path, but I really like
Ditch Plains
.
UD: You're married to Christy Turlington. Nice work. Where would you go to find a woman like Christy?

EB
: I never had any luck finding a woman like Christy out at clubs or bars. That kind of scene for meeting someone, I never had great luck with that.
UD: So how did you meet her?

EB
: I met her at a charity function in the Hamptons. I don't even remember what the cause was...but it was a good cause, I know that. Charity events can be a good place to meet people, because everyone is likeminded, and it's social, and there's alcohol, but it isn't being sold to you as an event you're supposed to be partying at.
UD: Help a brother out. Where do her cute single friends hang out?
EB
: I met her around 2000, so you know, this is nearly a decade ago. Bond Street was a place she and her friends would go.
Nobu
was always kind of a hotspot. By the time I met her, she wasn't really doing the club/bar scene thing. She had matured a little earlier than I did.
UD: Lauren Holly, Heather Graham, Christy Turlington...what's up, is it the Irish charm? The "I don't care" attitude?
EB
: That's a tough question to answer. You might have to ask Christy what it is (laughter). Let's just say that kindness goes a long way.
UD: That's such a good guy thing to say.
EB
: If you're a decent guy, you know...things fall into place.
UD: Come on, give us a little insight into what your game was like.

EB
: I wasn't really a player like that. I wasn't so good at staying single, I was always in relationships. But once you're in a couple of movies, you don't need to have a good rap. You could have the worst rap and people will still want to talk to you.
UD: How many movies does it take?

EB
: Just one, one good movie. Look at how reality stars get play—the public isn't picky.
UD: What's the one biggest thing that distinguishes single guys from married guys?
EB
: Single guys still move in packs. When you get married, you lose your pack mentality. And hanging out with a group of guys starts to feel a little weird.
UD: Single women from married women?

EB
: Single women can have a kind of angry look...I don't know. I'm not a good judge of this. Even as a single person I never noticed wedding bands.
UD: Advice for the man looking to get married?

EB
: You're going to end up in the wrong marriage if you go looking for it. Let the marrying type find you. And there are always going to be several things in someone else that will drive you insane, so you need to find someone whose crazy traits you can stomach.
UD: Advice for the man looking to stay single?

EB
: Never let a girlfriend move in with you. It's very hard to extract yourself from that situation. And have a separate phone number that's more of a voicemail. Once they can track you down at all times, you're in trouble.