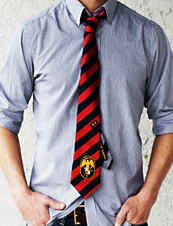 High school seemed like such a blur. The girls, the parties…the neckwear.
And while you can't relive those first two—at least not legally—you can bring some preppie style back to your wardrobe with
Hugh Simms
, a new line of ties made right here in LA.
Even if you went to public school—not that there's anything wrong with that—sporting the line's repp stripes, fictional badges (think rugby teams and secret societies) and school colors will give you preppie panache to spare. (Imagine Vinnie Chase playing Max Fischer in
Rushmore 2: Electric Boogaloo
, and you're pretty close.)
Speaking of, the line also sports some welcome nautical touches. The
Boat 109
is named after JFK's sunken military watercraft (and sports some Jack-worthy stripes), while the
Gentleman Johnny
has a pirate-style skull patch. (As in Sparrow, not Somalis.) And we should mention that the whole set's named the
Caulfield Collection
, after the original preppie rebel,
The Catcher in the Rye
's Holden Caulfield.
Not that you've ever needed some clever backstory to feel like a rebel.