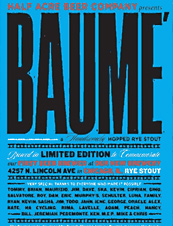 You've always been quick on your feet.
But when beer's involved, you've been known to move even faster.
So when we heard that one of Chicago's own modest brew palaces was preparing to release into the wild (i.e., liquor stores) a tiny, virgin batch of handcrafted beer goodness, we knew you'd want to be there to pounce on it with cat-like quickness.
Introducing
Baumé
, the first special-edition beer from Half Acre's brand-new North Center Brewery, dropping this week and redefining the "micro" in "microbrew."
A little backstory: up until three weeks ago, Half Acre was doing its brewing out of Black River Falls, Wisconsin. But with the debut of Baumé, a hoppy rye stout with notes of chocolate and coffee, it ushers in an era of freshness and flavor that's all Illinois.
But here's the catch: as it's just sort of a christening batch, there were only 10 kegs and 600 22oz bombers produced. The kegs will be arriving at a few Chicago bars later this week, and the bottles will land on a few liquor store shelves in the coming days. After that, we're told they'll never produce Baumé again.
Don't cry.