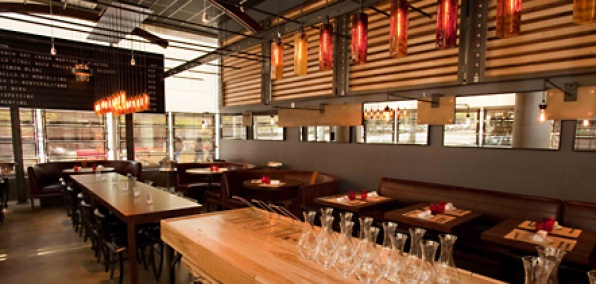 It's the beginning of an, er, fruitful partnership.

Not just the one between Raj Parr and Jason Berthold—the former a Mina Group wine director, the latter a French Laundry alum. No, we mean the one between you and your new favorite vino spot.

Raise a glass to RN74, a Burgundy-inspired wine bar and restaurant nestled into the base of the new Millennium Tower.

Think of the place (named after Route National 74, which passes through Burgundy) as the casually chic, wine-obsessed little sister of restaurant Michael Mina—and a mainstay-in-waiting for business lunches or post-work martinis and pinots.

Prefer pleasure to business? Request table 49. It's a (what else?) burgundy-colored leather nook, where you'll have a prime view of the last-bottle board—an electronic train board from Italy that ticks out rare deals like something from a high-stakes auction.

Of course, you can also sift through the 3,000-bottle and 50-glass selection from the 80-odd page wine list. Or just consult the market board overhead, which lists 100 bottles under $100.

As Berthold had a hand in making some of the wines, you can rest assured that your Japanese Big Fin Squid or Sautéed Pork Belly will pair seamlessly.

But you should judge for yourself.