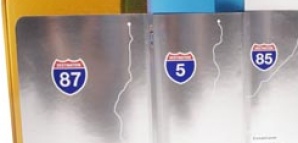 Sometimes seeing a men's product counter loaded with twenty types of cocoa butter moisturizer makes you want to stop shaving, buy a Harley, and head for the open road.

Hence Destination Nation, a new grooming line inspired by (what else) the interstate highway system.

Before you think you're one step away from an aftershave that smells like big rigs and road kill, these all-natural products draw a little more inspiration from the locale than the highway itself, like the "I-87" Adirondacks Shampoo, which leaves you with a clean, mountain fresh scent, the "I-95" New England Scalp Wash, which fortunately gets you cleaner than Manny Ramirez, and the "I-80" Napa Valley Pre-Shave Gel, which does not in fact make you smell like a wino, but rather leaves a soothing relaxed feeling in its wake.

And with no specific regimen, there's no right or wrong way to use them (no directions—just the way we like to be on the road).

Don't worry, we've been assured that the "New Jersey Turnpike" body exfoliator will not be put into production this season.