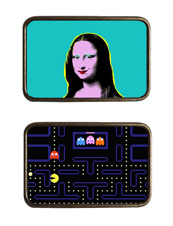 A picture is worth a thousand words.
And while you've got your share of fine art, Facebook pics and autographed Hasselhoff 8x10s, we've found a slightly more subtle approach: the belt buckle.
Let us present
Neves
belt buckles, an extensive smorgasbord of interchangeable, pop-culture buckles and belts, available now online with a well-curated collection at Molte Cose on Polk Street.
Seeing that these little works of art can be switched out in a snap, literally, you'll want to pick and choose your favorites from the vast, wacky-to-handsome 200-plus lot—everything from maps of San Francisco or New York (ensuring you'll never get lost) to recycled beer cans and Donkey Kong screen shots.
So, when you're staring down a high-stakes day at the office, wear the bulldog, snap on the Warhol-esque cassette tapes for '80s night or try something a bit more sporting like one with a monkey riding a bike, just because.
You can also dress up your look with buckles crafted of wood and leather, or dress it down with ones made from recycled beer cans—like PBR for every day or Anchor Steam to show your hometown pride.
And if an ice-cold one appears out of nowhere, just smile and nod.