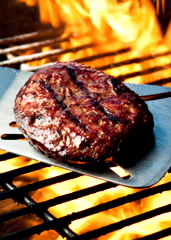 Pardon the interruption.
You're probably out there getting some sun on you. Maybe you just rolled over in a deck chair to check your phone. And even out your tan. But mostly to check your phone.
And boldly upgrade your summer-grilling situation while you're at it...
Inhale the smoky splendor of the
FarmBox LA Grilling Box
—an essential cube that's filled with all the local-farm-ish meats, greens and peaches required for an impressive cookout, then dropped at your door—available now for delivery.
In short: it's summer. Your grill needs you. But when you've got a sunny afternoon and a choice to make—pool time or grocery store time—well, you know. Pool.
So this takes about two minutes. Go to the FarmBox website. Order their brand-new grilling box. It's got everything you need to crank out a majestic spread for four, with easy recipes when necessary. Think grass-fed ground beef from Dey Dey's, Röckenwagner pretzel rolls, Bay Blue cheese, and supplies for potato salad, guac and grilled peaches.
Caveat: the boxes are delivered every Sunday, and you have to order by Thursday. So this week: hot dogs and leftover fireworks. Next week: grilled-peach glory.
We smell a new national holiday. And peaches.