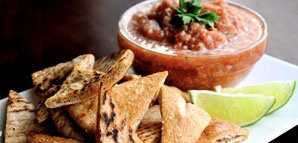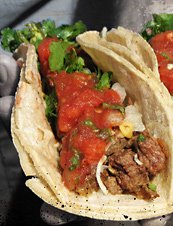 Not that you need to be reminded that LA has a lot of traffic, but… LA has a lot of traffic.
And sometimes a giant burrito in a 13-inch tortilla seems like the only thing that'll get you through. Welcome to
Chronic Tacos
, opening tonight in that refined bastion of high cuisine—a strangely modified Chevron.
The first LA outpost of a popular empire in the outskirts, this Chronic is now (as far as we know) the only to-go spot right off the 405 mixing
Tecate-Battered Mahi Mahi Tacos
with gas pumps, giant SUVs and questionable marijuana references… thereby redefining the term "taco joint."
To explain: the station is owned by West Coast Customs, which has pimped out many a car on reality television… like Shaq's absurdly enormous Hummer out front. (If the station's busy, you might be able to park underneath it.)
Inside is the counter for tacos,
Pollo Asado
Tostada Bowls in Cabbage
or, if it's early, a
Gringo Burrito
(egg, potato and bacon) for the road. If the struggling actress in the next lane can read her script behind the wheel…
You can get down a tostada bowl.