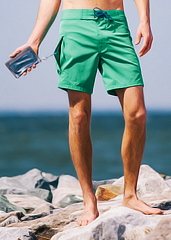 So, this weekend...
You were on the beach.
Or you were paddling through the equivalent of a monsoon to the beach.
Either way, these might've come in handy...
Practice a few laps in
Everest Isles
, a new line of rugged swim trunks made from the same stuff as racing yachts, available online now.
Yup, yachts. We're talking bathing suits made from the same cords and threading used on those Grand Prix racers. Not that these trunks actually sail or anything. They're for swimming. So, good for you.
But basically, that's what makes these things pretty darn tough. And UV-resistant. Do us a favor, though. Check out the left pocket on the bathing suit in your closet. Go ahead. Here's what you'll find missing: a cell phone holder. Well, these trunks come with that. It's a custom-size case attached with a lanyard and a stainless-steel clip. Hey, you never know.
So, soon—perhaps on the Fourth of July—when you find yourself fending off pirates in the Caribbean or, you know, just hitting the beach, you'll want to suit up with some of these. You'll have your choice of rugged-looking colors—black, midnight blue, kelly green—all cropped for a military fit.
Salute your shorts.