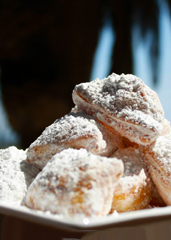 Scenario A: You're standing on a street corner, waiting for the light to change, and a truck filled with fresh beignets and hot coffee does not screech up to meet you.
Scenario B: It does screech up to meet you.
Congratulations, you now live in a magical city that has birthed
The Beignet Truck
, a noble service dedicated to bringing fresh, made-to-order pastries to every last corner of Los Angeles, now rolling.
First, you find the beignet truck. Then you approach the beignet truck. At some point you'll smell the sweet, sweet aroma of the beignet truck. And then you'll be kind of powerless to do anything except...
Order just an obscene amount of beignets. By the half-dozen or the dozen. They'll bake 'em fresh to order. They'll toss 'em in a bag with some powdered sugar and shake the bag and give you the bag. With some dipping sauces—Nutella glaze, maple glaze or whiskey icing. Or maybe some raspberry preserves. But really, yeah, whiskey icing.
Fact: this without coffee would be blasphemous. One more fact: they have chicory coffee imported from a New Orleans purveyor.
A city that knows a bit about pairing coffee and beignets.