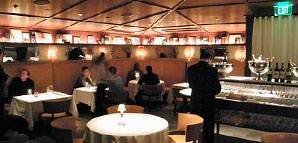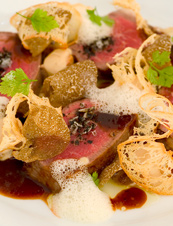 You
knew
there'd be a spectacle, and at the Bazaar by José Andrés, a spectacle was quickly born.
Four-star raves. Raucous surges at the valet. Monkeys on the LEDs.
Jamon Iberico
and liquid-nitrogen Caipirinhas well into the night…
And now it's time to forget all that. Or at least casually stroll past it as you approach the regal, restrained chef's tasting room hidden behind it all—it's called
Saam
, and it officially opens tomorrow.
A hushed hideaway that seats about 40 people max, Saam is tucked behind curtains to maintain your privacy. Once you find it (behind Bar Centro's bar, in the back), you'll take a seat in what feels like an intimate dinner party inside Philippe Starck's library—think cream-colored leather, Murano sconces and, yes, books.
And once the plates start coming, they'll keep coming—you're here for a completely individualized tasting of about 20 small plates per person, mixing chef Andrés' favorites from the Bazaar menus with new creations like
Tournedos Rossini 2009
(Kobe beef, truffle and foie gras, pictured), and
Nitro Gazpacho
prepared tableside.
It comes in at $170 per person ($120 without the wine pairings—as if that were an option), so this is the elegant special-occasion humdinger to pull from your arsenal to secure the promotion, the ring or that starlet's
real
phone number.
Or, you know, when it's Thursday.