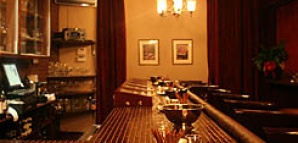 So you've just eaten your weight in beef at Luger's, and you want somewhere to continue the celebration, ideally somewhere no more than twenty feet away.

Well, look no further than the Velvet Cigar Lounge, which recently opened next door to the meat palace in Williamsburg. Decked out in varnished wood, brown leather and red velvet, the lounge has everything you need to digest in style, and keep the steak buzz going into the wee hours.

The Velvet folk have been making cigars on their farm in the Dominican Republic since 1910, and they know how to roll a stogie. Choose between mild, medium and full-bodied cigars, and light up with cedar chips, provided by the lounge, so your mouth won't end up tasting like butane.

To ratchet up the revelry, check out the beer menu, full of rare European beers like Saison Dupont and Aventinus, available in Daddy-sized 750ml bottles. Or if you're feeling cultured, check out their port collection, chosen to complement the thick taste of tobacco.

The Lounge is also a full-time tobacconist, so don't be squeamish about asking for a box of Don Luis Torpedos and dashing out. But unless your apartment has an open bar, don't expect to find a better place to light them up.