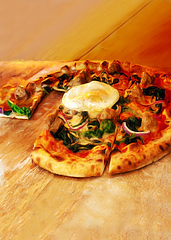 Backyard parties.
You know them. You love them. And when a chef from Yountville shows up with an 800-degree Italian pizza oven, you win them.
You see...
A thing called
Redd Wood on the Road
exists now. It's a mobile pie-slinging outfit courtesy of the Redd Wood guys, and they're bringing an entire afternoon's worth of Italian pizza-ness to your backyard startiiing... now.
You know Redd Wood. They do pizza out in wine country. The wood-fired kind. The delicious kind. The kind that now gets cooked right next to your pool at breakneck speeds in a bright-red, authentic Mugnaini oven from Italy.
Give them a call. Tell them you've got a bunch of friends over and everyone keeps asking you why you didn't invite a Yountville pizzeria over to feed them food.
They'll respond by wheeling that oven into your backyard and making things. Prosciutto crudo pies with arugula and grana padano. Maitake mushroom numbers with pancetta, kale and red onion. You know... things.
Oh, and they don't have any beer or anything at the moment, but that's hopefully coming soon.
Although if you really need them to bring booze to your barbecue, you should probably fire yourself.