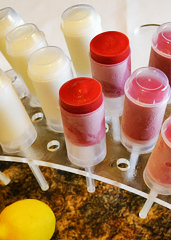 Answer: Margaritas, more margaritas and push pops.
Question: What are summer-friendly things made out of tequila, Alex...
Stake out your poolside spot for
Tequila Push Pops
—yes, they're tequila-spiked versions of the nostalgia-inducing summer favorites, and they're available starting Friday at the Pool Bar and Cafe at the Beverly Wilshire.
Let's go ahead and assume you're the kind of person who might be interested in finishing off your workday with a cocktail... next to a rooftop pool... at a fancy Beverly Hills hotel. Let's say you're not opposed to that cocktail being a push pop. Well, good. That's good. Because otherwise the Beverly Wilshire would've just wasted a lot of time and effort trying to get your attention.
You order them from a rolling cart, and you push them out of their plastic tube-like containers just like you remember—just know that they're not all that strong, so... you might want to order them with margaritas. And yes, you can come hang here even if you're not a guest—just as long as you're a paying customer at the Pool Bar. The only caveat is, you probably don't want to take a pitch meeting here.
Hard to keep a poker face while eating a push pop.