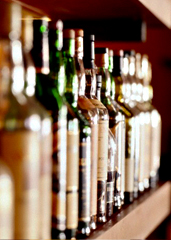 Everyone thinks a weekend spent drifting in your boat on Lake Michigan is so wonderful.
And it is.
Until you run out of vodka.
Calm down. No one panic. Don't start swimming to shore. We know a place that will bring you booze.
Say hello to
InstaBooze
, a Chicago startup that's dedicating itself to doing God's work. Namely, making sure you don't have to make a run to the liquor store for more hooch. It launches tomorrow.
Consider this your emergency backup if you realize attendance at your Taste of Randolph Street after-party was wildly underestimated. You know, suddenly a busload of Russian beach volleyball players arrives. And, oh no, they brought the Swedish volleyball team with them.
The process is easy: log on to their website (it's optimized for mobile phones), place your order, and about 45 minutes later, the cavalry arrives. They'll take a quick picture of your ID and hand over your bottles.
Right now, their delivery area is centered mainly in Lincoln Park, including Belmont and Diversey Harbor's waters (yes, they have boats). And to start, they're covering just the basics: vodka, whiskey, rum, tequila and Miller Lite.
This is no time for beer snobbery.