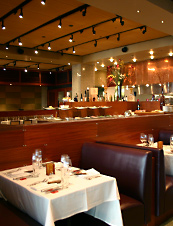 Whether it's the lack of doughnuts in the conference room these days or the lack of actual employees in your department anymore, there's a lot of belt-tightening going on lately.
Which makes it all the more marvelous when someone is willing to step up in times of turmoil and boldly swim against the tide…
Get ready to gluttonize:
The Grill Club
, an all-you-can-eat Brazilian barbecue with a Sao Paulo-sized array of flame-fired meats and side dishes, has just landed in Coral Gables.
The only unlimited beef parlor in the CG, the Grill Club is where you'll want to head when you're hungry as an ox and don't feel like narrowing your grilled meat selections down to less than a dozen.
It's a traditional Brazilian churrasco, set up just like the gauchos used to do it, only with comfier seating, white tablecloths and probably a few more skirts…
Show up with your non-dieting friends or a date with an appetite, settle into a leather booth, flip your card from red to green and feast on a never-ending smorgasbord of meats that are slow roasted on skewers over an open fire, then carved right at your table—everything from sizzling steak, lamb and pork to shrimp and chicken.
There are also plenty of sides, like cheese bread, fried bananas and mashed potatoes, plus lots of wine.
Just in case you were worried about that.