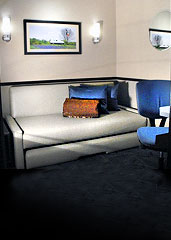 "Sorry, your flight's been delayed."
Used to be that was one of the more annoying phrases in the English language.
Then, today happened.
And now it's just mildly annoying. Also, way more relaxing.
Fluff your pillow for
Minute Suites
, a pay-by-the-hour (but not at all what you're thinking) nap center you'll employ for a little between-flights R&R, now open at DFW Airport's Terminal D.
It's a pretty simple concept. Probably wish you thought of it. Could have your own napping empire by now... Anyway, this place is like a mini hotel that you'll check into the next time your flight to O'Hare gets delayed. It's got 10 small rooms and standard hotel amenities. Beds, TVs, hot showers, wi-fi, a specially engineered system for maximizing sleep efficiency...
Oh, right, that. See, it was designed by doctors and sleep experts, so it's all science-y and whatnot. There's a sound-masking system that stifles outside noise. And an in-room audio program that apparently can deliver three hours' worth of rest in just 26 minutes.
We assume this involves obscene amounts of Kenny G.