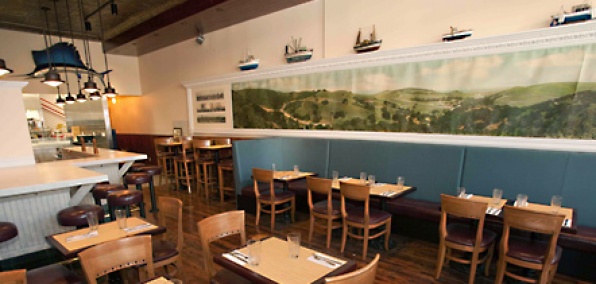 There's something about a seafood shack that evokes the ease of a summer's day (or, in our case, the idea of a summer's day) like no other.

Which is why there always seems to be room for one more New England sea shanty in our city by the bay.

So say hi to Woodhouse Fish Company on Fillmore, the 2.0 version of the Market Street classic Atlantic Coast seafood eatery with a Pacific Coast edge, opening Monday for lunch.

Since this uptown outpost is twice the size of the original seafaring joint, you'll find all of the casual, fresh-off-the-boat specialties (like Crispy Whole-Belly Ipswich Clams, Clam Chowder and Fish & Chips) that lured you to its older sibling in the first place, plus a whole lot more—most notably a bigger menu, longer wine list and more Anchor Steam once they open for dinner.

As you step inside under the giant squid hanging overhead, you won't be surprised to learn that this was a fish market back in the day. Walk over the restored original wooden-planked floor to the long marble-topped bar and take a seat on one of the cushy, red-topped stools a few steps from the oversized sailfish hanging above the open kitchen and watch the gold-framed flat-screen streaming videos of fishermen at sea.

While it might not make you grab for your rod and reel anytime soon, it's the thought that counts.