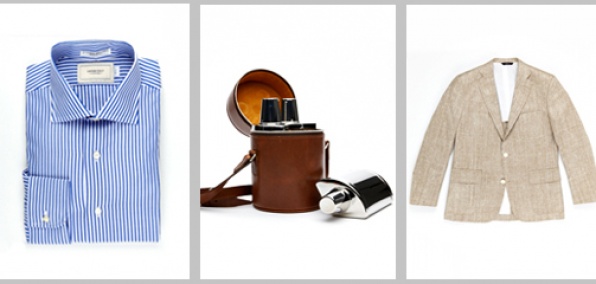 Look up "handsome" in the dictionary.
Next to the definition, you'll see a picture of this stuff...
... if you happen to have one of those self-aware dictionaries that updates the corresponding picture for "handsome" every time a dashing menswear shop launches a website.
You should get one of those dictionaries. Right after you buy some pants.
Click on a bunch of things at
Carson Street Clothiers
, the online incarnation of New York's reigning champion of masculine wearble-ness, now open for digital business.
Back in March, these guys debuted a store in SoHo. And since then, everyone with even the slightest appreciation for button-downs has been going, well, how can we put this in a way that involves the use of a censored swearword... apesh*t. They've been going apesh*t.
So in incredibly good/logical news, they're now operating online. Which means it just got criminally easy to score one of their raw silk blazers (designed in-house) or Baldwin selvage jeans. These are things you should own if you live in a place that experiences summer.
And sure, putting remarkably well-made things on your body is great and all... but so is drinking. Which is why they're also peddling a leather-wrapped satchel cradling three stainless-steel flasks* within.
*Whiskey not included.