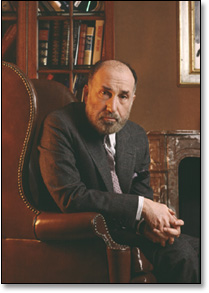 With wedding season upon us, there's no one better to discuss all things marital than top-notch celeb divorce attorney Raoul Felder. The lawyer to Rudy Giuliani, P.Diddy's ex-wife and Mick Jagger's baby's momma has seen it all when it comes to good relationships gone bad.
Read on for how to navigate New York with your future, present and past spouse in mind...because it's all fun and games until someone loses a pre-nup.
UD: Where would you go to meet a future spouse?
RF:
If you want to meet girls, go to Hermès.
UD: Where else do you like to go in the city?
RF:
I like Central Park and the hansome cabs. Last night I went to
Molyvos
, a nice Greek restaurant. The tables are set far enough apart so it's a good conversation place. There's a great Indian restaurant on Broadway called
Sapphire
and a great Chinese place called
Tse Yang
. I also like
Nobu
for the food, but it's not conducive to talking.
UD: So what's the biggest reason for divorce?
RF:
The biggest reason for divorce is boredom. People go looking for something and somebody else. Then there are the cases where fear and money keep people together.
UD: What are some ways clients got caught cheating?
RF:
They keep diaries. 6/08/06 WABNE, meaning June 8, 2006
Waldorf Astoria. Best night ever
. They all use the same codes. Don't do that. And don't get prostitutes or drugs using a credit card.
UD: Where's the best place to break up with someone?
RF:
I advise people to get to as crowded a restaurant as possible so your partner can't make a scene.
Fresco
is a good break-up option.
UD: Where do people go to be anonymous in New York?
RF:
My clients go to lounges and hotels like the
St. Regis
, the
Algonquin
or the
Peninsula
because those places are filled with out-of-towners so you don't see a lot of New Yorkers there. That and they go to the Village gay bars so there's less odds of running into their friends.
UD: Are there people you can't trust?
RF:
Definitely. Never trust your secretary. They turn on you. Don't trust your girlfriend because if she dumps you, you have an enemy on your hands. But you give a doorman or chauffeur 50 bucks, and he'll tell you everything you need to know.
UD: And where do you clean up post-portem, i.e. meet some rich divorcées?
RF:
The best bet is to buy a ticket to any charity event or silent auction. Look up charitable foundations because these rich divorcées have to get rid of tens of millions of dollars for tax reasons, so a lot go the charitable route and become social butterflies. The
National Arts Club
is also a good bet.
UD: And what about romance?
RF:
Romance is what 18-year-olds do in the back of cars. In New York, it's what people do in hotels. Adultery is a crime in the books.
UD: How do you advise people to get back on the market?
RF:
Every time I go to the lower west side and the meatpacking it is an awful scene, especially in the summer. It's like dogs sniffing each other. I would recommend avoiding that and going to church socials instead.