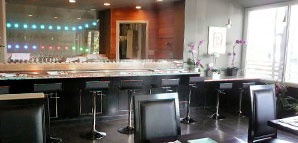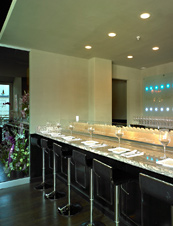 Everybody's scaling back these days.
So instead of going big or going home, it's good to know you've got options.
Which is why you'll be glad to hear that the guys at Bushi-Tei are bringing you
Bushi-Tei Bistro
—a casual version of your favorite upscale French-Japanese fusion restaurant—soft-opening today down the street in the Japantown Center.
As Bushi-Tei's low-key cousin, the Bistro is perfect for lazy Japantown nights chock full of interesting Asian and European treats—everything from a snack of garlic toast paired with a crisp Pinot Blanc to a full-blown meal of sashimi and Kurobuta pork.
Tuck away at a table nestled under dark wooden beams with frames of geishas hanging on the wall and, if you're a Bushi-Tei regular, you'll immediately appreciate how broad Chef Waka's bistro menu is. Start with the
Gyoza
and
Pork Fry
, or even the
Bacon-Wrapped Asparagus
, then move to hearty mains like
Squid Ink Spaghetti
and
Grilled New York Steak
.
While your first instinct will be to couple this spot with movie night at the Kabuki around the corner, as early as next week you'll find yourself coming back to hang out at the marble-topped wine bar, sampling an assortment of Bordeaux and Burgundies or maybe a few sakes and beer.
Like we said, you've got options.