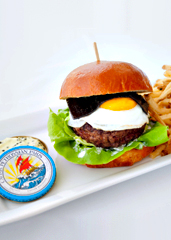 Hey, welcome back. Have a caviar burger.
Here's a sentence where we say some meaningless words while you process the term "caviar burger"...
Okay, moving on.
The Caviar Burger
. It's real. It's at Petrossian. And it's only being served for one day. Gentlemen and ladies, that day is today.
The holiday's over. You're back to normal life. You just brushed the last bit of sand out of somewhere or other. You... could really use a burger topped with caviar to ease you back into existence.
So go to Petrossian. Now-ish. Ponder the fact that you are about to order a burger topped with caviar. Congratulate yourself on the choices that've led you to this moment. And then it arrives. A thick burger with crème fraîche dressing, a fried egg, butter lettuce and a "Caviar Sheet," made of pressed caviar. On the side: fries, with some caviar aioli in a caviar tin. Caviar caviar caviar.
And for some reason, today is the only day you can get it. They say it's because of something called a National Burger Day.
And Hallmark was all out of cards, so...