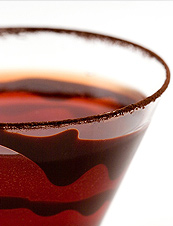 You've always had an unquenchable thirst for adventure. Good, you're going to need it.
Introducing
Mole Poblano
from North Shore Distillery, a new chili-pepper-and-chocolate hooch to spice up your spring liquor cabinet.
The Lake Bluff-based liquor maker has a tradition of releasing limited-run spirits, but they usually trend toward the genteel (Alphonso mango, Ceylon tea, Medjool date).
This year, they've channeled their inner Rick Bayless, producing a booze that recalls the spicy chocolate sauce that's usually found covering your enchiladas at Frontera Grill.
To create the boundary-pushing mole-hooch, North Shore took seven types of chili peppers, whole cacao beans and a few herbs and spices, infused them all into the spirit, then distilled the mixture to infuse the flavors more fully.
The result is a peppery, spicy concoction with just a hint of sweet chocolate—and maybe the perfect ass-kicking refreshment to sip on the rocks on your patio, or blend with a bit of Cointreau and lime juice at barbecues this spring.
Though you might want to hurry. Only 500 hand-numbered bottles of the stuff were made, and they'll be popping up in area bars and liquor stores as early as next week.
For once, you might be ready for Cinco de Mayo…