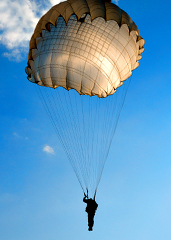 There are moments that unmistakably mark a new epoch in the human experience.
The discovery of fire.
The invention of the wheel.
The Magna Carta.
Nicolas Cage's bravura performance in
Captain Corelli's Mandolin
.
And now this...
Witness the brave new world of
Sky Is the Limit
, wherein a human being leaps from a moving airplane to deliver bubbly alcohol to you. It'll happen four times this summer at Day & Night Hamptons, including tomorrow.
Day & Night was already... pretty wild. A massive beachside party-brunch where your eggs come with a side of international electro DJ bass vibrations, sparklers and potentially an ironic captain's hat. Only now, your bottle can come by 13,500-foot parachute journey.
It'll happen this Saturday. Also: July 6, August 3 and August 31. And it'll work thusly: you procure $25,000 (... we'll wait). Then you call them and say you want this. Then you go to brunch and sit there stoically—a picture of dignity and restraint. While you do that, a guy's taking off from Skydive Long Island. A little while later, gravity kicks in.
Finally, a parade from the shore, where your magnum of luminous Dom Pérignon Rosé has landed (along with the guy). More bottles of champagne join the procession as it goes, until it all finally arrives at your table.
So yeah: subtle.