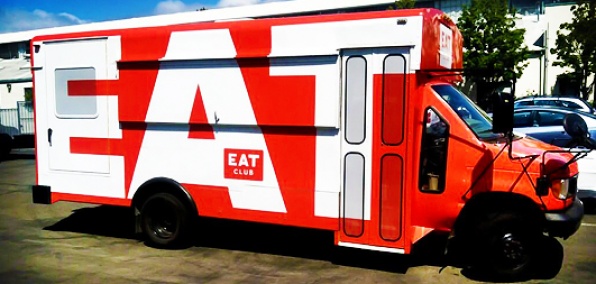 You know what would be great...

Is if a bus pulled up in front of your office and delivered you lunch from Nopalito.

Is what would be great...

Oh, look, here's Eat Club, a new app-driven service that involves a tricked-out bus driving around town and delivering lunch to your office from some of the city's finest restaurants, accepting new members now.

FiDi and SoMa: that's where this thing goes. Bar Tartine, Patxi's, Naked Lunch, Shanghai Dumpling King (their roster includes up to 30 restaurants): that's what this thing has in it. Oh, and this thing is a short orange bus. So keep an eye out for that.

Also, download the Eat Club iPhone app. That's the first step to being better at eating lunch than everyone else. Then scroll through the options and place your order before the bus rolls out for the day (should be right around 1pm). Vietnamese chicken salad from Bar Tartine. Chicken tamales from Nopalito. Pork spareribs from City Smokehouse BBQ. It's all there for the consuming.

Once you've placed your order, the app will notify you when and where the truck is parked. From there, all that's left to do is walk up, give them your name and pick up your order.

And then eat your order, but that's probably a given.