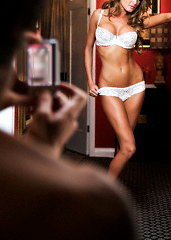 Sexting.
"Never again," you said.
"I learned my lesson," you said.
"I lost my home," you said.
But your culture needs you now. So step up to the plate...
Stretch those hammies for
Sext Me if You Can
, a performance-art installation where you send lascivious texts to a painter who immediately makes art out of them. Time slots are available now for May 23 to 26.
Sure, this may sound ridiculous. After all, only people with serious mayoral aspirations send NSFW photos by phone nowadays. But that's what you're going to do here. To a perfect stranger—Karen Finley. Who's then going to show it to anyone who'll look.
Here's how it works: you go online right now and choose one of three canvas sizes. Then the New Museum gives you a time to show up for a private sitting. On the designated day, you'll be shown to a room that you'll have all to yourself and given Karen's phone number. Then, you've got 10 minutes to
____________________
in your
__________
and
__________-_______________
with a
_______________
. And then send the image to her for painting. (Also: you kiss your mother with that mouth?)
Karen'll be in the lobby, interpreting your perversions on canvas. And once she's done, it'll be displayed through Sunday, at which point you'll pick it up for your own safekeeping.
By which we mean burning.