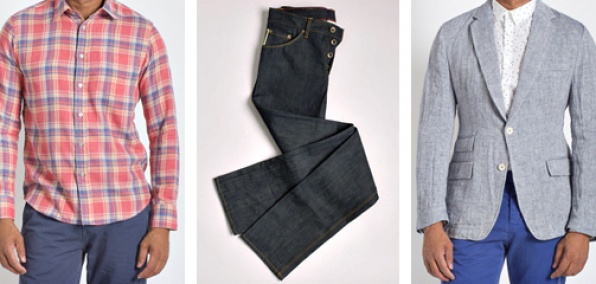 In 2001, the humble shop of mannish handsomeness Apartment Number 9 opened in Chicago. It was good. It was beloved. It clothed many a forlorn Cubs fan. But it was... in Chicago.

Today: everything changes. Because their entire store just went online. Which means very good-looking things for your limbs and potentially very large numbers for your credit card.

Here's what you need to know:

The shirts. Start with the shirts.
There are 108 of 'em right now. Plaid ones from Shipley & Halmos. Oxford ones from Billy Reid. Rag & Bone chambray ones. Basically, if you plan to encounter any shirt-required zones this summer (they're everywhere these days), start here.

They're big fans of show-and-tell.
Except it's more like tell-and-show—by which we mean they'll tell you some fascinating stuff about the guys making your next pair of jeans, and then show you those jeans. (At which point you presumably procure those jeans.)

They've fulfilled your floral-blazer quota.
Because you'll need at least one. They've also met your smoking-slipper quota (two), your shorts minimum (21) and your drop-crotch leather pants maximum.

Assuming that number is zero.