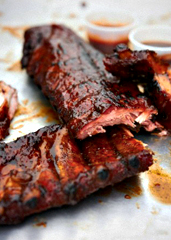 Josh's Deli.
The last time you heard from those guys, they were
dealing in clandestine tacos
.
And that was fun.
But that was also February.
It's time for something new.
How's highly coveted brisket sound...
Ring the dinner bell for
Brad's BBQ
, a smokehouse/barbecue joint operating out of Josh's Deli on (and only on) Tuesday nights, now open in Surfside.
Yes, we're talking about another pop-up at Josh's Deli. But this one comes to you from... Kansas City. And Brad Kilgore of Route 9, if we're being completely accurate. Anyway, Brad grew up in KC. Which means he probably knows his way around a brisket (emphatic yes). And he's probably a long-suffering Royals fan (emphatic maybe).
So, Tuesdays. 6pm. That's when you'll show up with a group of ravenous buddies. Because that's the only time this stuff will be available. Grab a table and start with the
warm jalapeño-cheddar cornbread
and some KC Boulevard brews. Then, on to the proteins. Beer-brined chicken. Wet ribs. That brisket. It's all coated in Brad's top-secret barbecue sauce...
Which is essentially a smoky-sweet combination of herbs like tarragon and chilies that have been slow-simmered on the stove for over 24 hours.
Yeah, we've never been good with secrets.