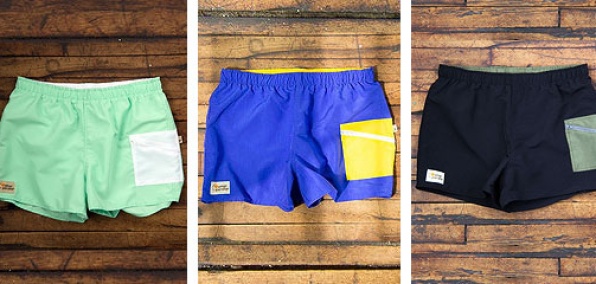 Big weekend coming up.

There are a lot of things you'll need. BBQ grill. Swim trunks. Gallon of sunblock.

But back to those swim trunks. We think we've got something you'll like.

Don't worry—your thighs will look great.

Behold Owner Operator Pocket Swimmers, the first line of swimwear from two NYC guys known primarily for their snowboarding gear, available online now.

We'll warn you. These may be a little, uh, snugger than you're used to. They sort of resemble the shorts worn by Larry Bird back in the day. Only they're much more colorful (blue and yellow, pink and white), and they're made with a microfiber nylon that makes water bead up and roll off, so they dry really quickly.

So picture it: you're at your chairman's house for a party on Monday. You start in the pool for a rousing game of chicken. While everyone else is still toweling off, you take a seat in the honcho's home office to discuss heading up the new branch in London. Or just the Bruins game.

One more thing: these also have a pretty large mesh zipper pocket on the side, to hold your keys or your cash or whatever.

Though probably not your Kevin McHale trading card.