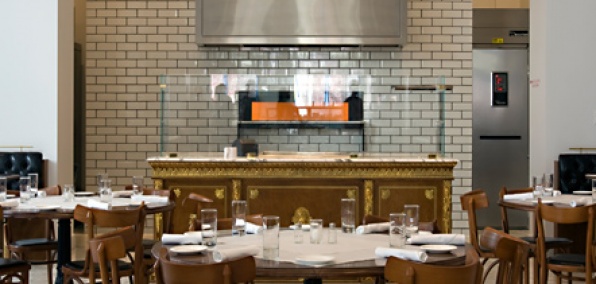 Downtown is many things.

But a warm neighborhood full of crisp, giant, corner market-restaurant hybrids it is not. Or… it wasn't.

Welcome to the bright white Italian mecca called Bottega Louie—stocked with espresso, pizza, wine and everything under the Tuscan sun—finally opening Monday on the corner of Seventh and Grand.

Split into two distinct but open spaces (café and market on one side, dining room on the other), this Bottega is here for you in the morning with $1 LAMILL coffee, smoothies, fresh-baked baguettes and pastries—and free WiFi, if you've got some last-minute prepping to do before the morning meeting. And it's here at lunch with panini and Meatball Sliders. And it's here after work with a stiff Manhattan from the bar, served at exactly 38 degrees. (The thermometer it's stirred with will tell you so.)

If one or two of those puts you in the mood to stick around longer and ride out sunset (by which we mean rush hour), settle in a corner table for a piping-hot pizza fresh from the 800-degree brick oven in front of you. It'll cook up a traditional Napolitano-style Margherita in about two and a half minutes.

Not bad, any way you slice it...