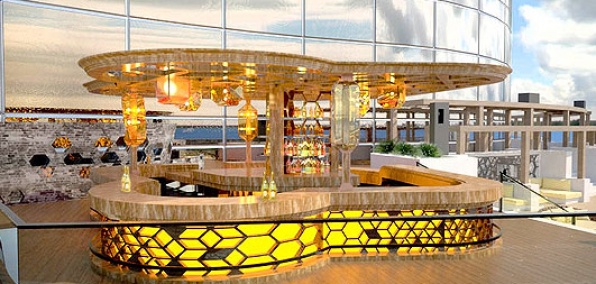 Hey, we're doing a little fake survey here. Help us out...

Tell us which of these you'd be most interested in this weekend...

a) A massive beach club.
b) An all-day pool party.
c) An unfairly attractive person gracefully uncorking bottles for you.
d) None of the above.

... No one ever picks d.

And so there's HQ Beach Club, a pool-having, bungalow-heavy, daybed-lounging dance paradise, opening Saturday at Revel in Atlantic City.

Perhaps you've been to HQ Nightclub inside Revel. World-class DJs. Enthusiastic bottle service. Not-at-all-displeasing-to-the-eye wait professionals. This is just like that, but bigger and with 100% more clear blue sky over your head. So, you know, the summer version.

Now, when we say it's bigger, we mean it's 45,000 square feet of Greek-island-inspired stuff: a triangular pool, an elevated dance floor and two cocktail bars, all sprinkled with marble columns and teardrop chandeliers. That kind of bigger.

Let's say there was some type of commemorative day coming up. One where, by some happy coincidence, society didn't even expect you to think about working. You and some friends might just want to make your way down to AC for an extended weekend and reserve yourself a bungalow here. What that entails: your own shaded teak domicile complete with plunge-pool access, flat-screen, couch and two king-size beds.

So naptime's covered.