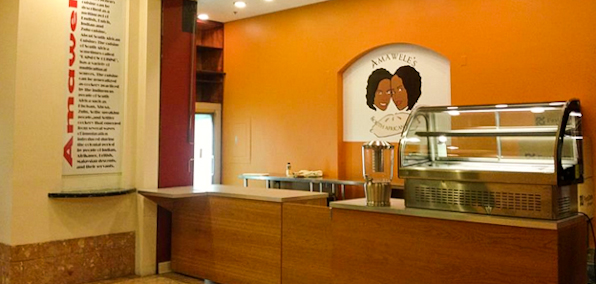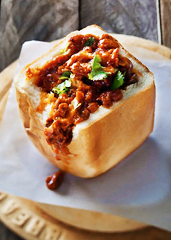 It's going to be a banner day for new South African lunch spots.
Call it a hunch...
Better yet, call it
Amawele's South African Kitchen
, a new takeout lunchery slinging all manner of authentic South African deliciousness from bunny chow to meat pies to other things that can't wait to meet your face, now open in the Rincon Center.
A lunch counter. That's what's inside of this place. No long leather banquettes. No chandeliers. No "servers" taking your "order." Nope. Just two lovely twins named Pam and Wendy and their ever-rotating menu of African curiosities.
There you have it. Just pop in anytime you're hungry. As long as that time is in the afternoon. And as long as you don't mind eating double-crusted meat pies or bunny chow (it's a scooped-out chunk of bread filled with chicken curry). Oh, and get some vetkoek while you're at it. They're deep-fried dough balls split in half and stuffed with ground beef or chicken.
They're starting off with a few entry-level dishes to familiarize you with the cuisine first. But feel free to look for things like boerewors in the future. It translates to "farmer's sausage." Which translates to beef sausage served over polenta-like grains imported from South Africa.
Which translates to you probably enjoying that quite a bit.