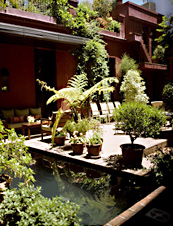 You know the recession is hitting hard when even movie moguls are renting out their rooms.
Sucks for Francis Ford Coppola but definitely good for you.
Mr. Coppola—he of Apocalypse Now and the Godfathers, father of Sophia, uncle of Nicholas Cage—is letting out rooms of his Buenos Aires jungle estate, 
Jardin Escondido
. We suggest you look at this as a sort of couchsurfing.com meets the Oscars down in South America.
You'll get to kick back with FFC at his seven room estate when the big man's around which, sadly, isn't so often—he has movies to make, vineyards to tend plus he's the honorary US ambassador to Belize. But even when he's not there, his stuff is. This means: his terra-cotta floored villa with an interior designed by FFC's wife, Eleanor, who apparently has a thing for beasts. The villa is covered in skin rugs, animal masks and modern Argentine art. 
Out back, there's a solar-heated pool; on the roof, there's a secluded garden and following you discretely with a bottle of Coppola's Malbec already uncorked, there's a personal sommelier. Just don't go looking for Coppola's little army of Golden men. Those he keeps in his Napa vineyard.
Though a night's stay runs around $550—and there's a three night minimum—being able to say, "When I go down in Buenos Aires, I stay with Frankie C." is priceless.