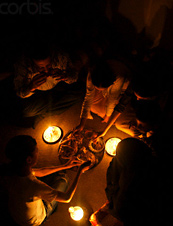 Tomorrow night, something ominous is going to happen throughout the city.
Capitol Records building—lights out. The blazing LAX letters—won't blaze. Most horrifically of all: "CSI." Not filming.
And in restaurants throughout the land, the power's going down too. And in the darkness, thanks to
Earth Hour
, you'll have endless choices for some apocalypse-averting dinner by candlelight.
It may all seem a bit
Independence Day
, but unless you find yourself at a table next to Randy Quaid, you haven't got much to worry about. The citywide power-down is a movement to address climate change, of course, but here in LA it means the chance to steal your eco-friendly date away and tuck into the last dimly lit corner of Akasha.
But that's just one option—Blue on Blue has a poolside prix fixe of local halibut and arugula from the rooftop garden for $45. And the lights are also going down at BottleRock, the Chayas, Ciudad and plenty of other places later on in the alphabet. As far as you're concerned, the key to all globally conscious endeavors should be…
Another bottle of Cab.