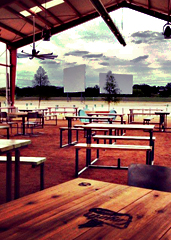 Nice night for a movie.
Now, you could do the conventional thing.
Go see it at the Magnolia or something.
But, nah. Nothing beats the comfort of your car.
Call shotgun for
Coyote Drive-In
, a new destination for, well, drive-in movies, obviously. But also: cold drinks, burger concessions and one very large beer garden, now open in Fort Worth.
What you've got here is basically a parking lot. But one with three massive screens showing double features. A concession stand doling out the usual movie snacks. And an open-air bar/restaurant with plenty of picnic-table seating where you'll eat/drink things that are... not the usual movie snacks.
So tonight (or tomorrow... whenever's convenient, really), you'll hop in your car and head due west. Once you arrive, park at the screen that's showing
The Great Gatsby
. Then get out. Stretch your legs a bit. Head over to the beer garden for something to drink. Like a beer. And the concession stand for something to eat. Like a thin-crust pizza.
When the movie starts, you'll return to the comforts of your car. Audio's piped through your stereo, so just tune it to the prescribed station, relax and see where the night takes you.
To the backseat, perhaps.