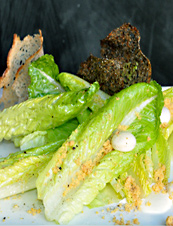 Some things are natural pairings: bikinis and the beach, cigars and scotch, March Madness and a complete lack of productivity at work.
Others require a little more imagination. Like: salad and candy.
And now you can thank your favorite spiky-haired avant-garde celeb chef Elizabeth Falkner, who's at it again with her
Explosive Caesar Salad
—an enhanced romaine, parm and Pop Rock candy concoction that'll literally kick-start your meal—available now at Orson.
When the salad appears at your table, you'll immediately notice that it isn't any ordinary Caesar. Which means you'll have to go on the attack. Start by breaking up the two wispy curls of crouton-like shaved toast into bite-sized pieces, and then stab the fleshy globes of dressing and let them burst over your lettuce leaves. Once fully soaked, the fun begins: the parmesan streusel topping is loaded with your favorite retro popping candy, there to bring a new kind of crunch to your salad. Load it up on a lettuce leaf and let the games begin.
Since the Pop Rocks are activated by moisture, you'll start to feel a slight peppery tingle on the tip of your tongue that grows as you make your way through your salad, but happily subsides almost as quickly as it starts.
If you were expecting a stomach-busting explosion, we're happy to report that it's all an urban legend.
So go ahead and order that rum and Coke.