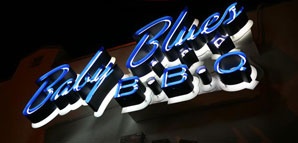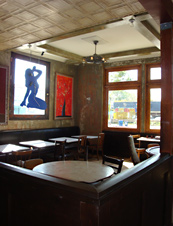 As the blue skies of summer stealthily approach—hey, March is close enough—your thoughts naturally turn to all things barbecue.
You're not alone: the famed Venice Beach institution known as
Baby Blues BBQ
is quietly opening up a new West Hollywood spot on Friday, and they're bringing their Guinness-soaked ribs with them. (Translation: won't stay quiet for long.)
Think of the grub as authentically inauthentic—meaning, they proudly mix things up in the kitchen rather than focusing on one particular region. Of course, if you've lost a few good shirts to the founding Venice spot, you know that already—but this new outpost has a giant kitchen complete with deep fryer, so in addition to your old favorites, here you'll find
Fried Green Tomatoes
and
Hush Puppies
.
Grab a stool to the left at the full bar (another improvement) for a
Mint Julep
, and order her a rum-heavy
Sweet Tea
. (It's in a pint glass, but she can handle it.) You can choose your own sliders, everything from pulled pork to brisket to shrimp to catfish—but if you're thinking meat platter and slaw, you'll probably want to get yourself a table by the windows.
It's just like a backyard, without the backyard.