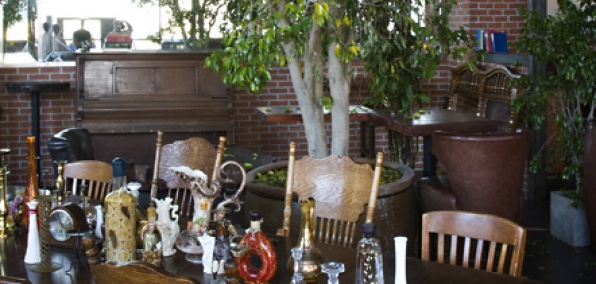 You're heading to the ArcLight.
Bowery's full. Hungry Cat's booked. You just want something respectable. Something prompt. Something… with beer. Really good beer.
Welcome to
BoHo
, a long-overdue neighborhood spot debuting Thursday for movie night… that you might want to visit even when it's not movie night.
The former Charcoal space has been rendered unrecognizable, in a good way, by Hollywood's uber-designer Kris Keith, who knew the only way to follow up
Viennese art deco glam
was with a cheeky thrift-store theme of random knickknacks, mismatched chandeliers and the occasional giant indoor ficus. (Okay, so it's the Hollywood version of a thrift store.)
Drop in anytime for a seat by the fireplace in the wide-open front area—or if you're about to take up a couple rows at the theater, the large communal table keeps you front-and-center. But for a low-key date demanding a little more privacy, you'll want one of the booths in back by the tucked-away bar.
Adolfo Suaya and Oinkster chef Andre Guerrero are aiming to get the thin-crust
Fennel and Bacon Pizza
or
Pile o' Ribs
out in time for you to catch the show, but if you're not in a hurry, enticements to stick around include a rotating list of rare beers from the esteemed owner of
Verdugo
.
Sounds more enticing than
Race to Witch Mountain
anyway.