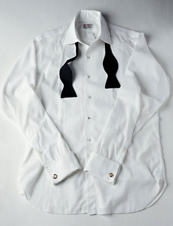 Sure, Armani, Prada and Calvin Klein have their merits.
Same for rag & bone, Spurr and Band of Outsiders.
You even like what you're seeing lately from Marc Jacobs.
But when you need someone to clothe you in a dress shirt that is going to feel like the designer has spent a lifetime studying you for this one moment of sartorial perfection, there's only one person you can really turn to: yourself.
Introducing
ShirtsMyWay
, a new website that allows you to control every detail of your shirt, and the answer to the question, "I could design a better dress shirt than those hacks at Burberry, couldn't I?"
The process is simple and painless. You'll choose from 17 different colors and fabrics (Clean Break white, Deep Dark black, Jump Star pink…), then pick your preferences in shirting X-factors like cuffs, collars and buttons. You can even mix and match contrasting fabrics—because who says you can't have a Jump Star pink Oxford weave shirt with a White Light herringbone weave collar? (Answer: Not Shannon Sharpe.)
For measurements, you can go the Small/Medium/Large route, or specify more exact measurements from up to 12 categories. Once you click "complete," tailors overseas get stitching, and your shirts arrive about nine days later.
For all we know, it's how Tom Ford does it.