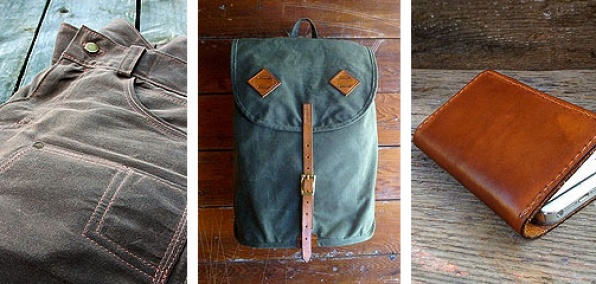 Portland.

The City of Roses, they call it.

A mythical land of bike shops, Clyde Drexler, craft beer and Fred Armisen sketch-comedy shows.

It's a bountiful place. Until you require an extra-sturdy rucksack. Then what's Portland ever done for you...

Oh, right, this. They've done this.

Clear some shelf space for Red Clouds Collective, an emporium of American-made handsomeness and your new go-to for leather and canvas everythings, online now.

This is what happens when a bunch of guys in Portland with a penchant for art and invention band together to create the online equivalent of an old general store. The kind of place where you can find waxed-canvas pants, rugged daypacks and pocketknife sheathes. Also, other things that come in handy when you're camping/don't want to puncture your leg with a knife.

So now that you know this place exists, you'll want to inventory your belongings and see what's lacking. An office-ready vegetable-tanned leather briefcase, for instance. Or maybe a tool roll that doubles as a work apron. Definitely a handmade guitar strap. Then, order that stuff.

But let's say you're more in the market for a leather iPhone case that functions as a wallet and has a built-in sketchbook. Well, that's fine. Incredibly specific, but fine. Because they've got that, too.

This place really seems to get you.