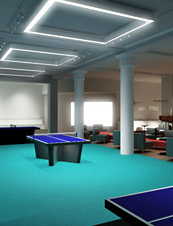 Sometimes, in the blink of an eye, a new type of club appears on the scene.  
A membership club not like any other you know.
And if that club happens to involve a tiny white ball and a gin martini, so be it.  
Consider this your official notice:
SPiN New York
, the city's first private ping-pong club and general society of troublemakers, is now accepting applications for founding members.
Brought to you by the same crazy table-tennis upstarts who curate the eclectic
Naked Ping-Pong party scene
, think of SPiN as Soho House meets a 1972 YMCA basement. Everything you've ever wanted in a ping-pong joint is here: 13,000 square feet of Olympic-quality table tennis flanked by a huge bar, private lessons, regular celeb-hosted parties… and it's all backed by Susan Sarandon (you can call her the godmother of ping-pong).  
The expansive space is decked out with Olympic matting, 15 tables and locker rooms with overnight paddle storage, not to mention the Fred Perry Room, a private VIP space with a table made entirely of mirrors (perfect for when things get a little frisky after a couple of matches and a little tequila).
And being the good friends that we are, we wanted to bring you unfettered exclusive first access to the retro-recreational madness: the first 300 founding members are privy to reduced annual dues and bragging rights about being founding members of a ping-pong club.
You can thank us later. Right now you should be worrying about your hand-eye coordination.