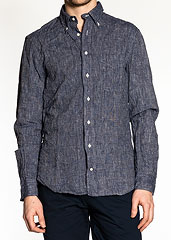 You're getting a tax return.
Nicely done.
Now you stand at a crossroads. In one direction: smart, responsible usage of said monies. The other: blowing it online.
This has wardrobe-overhaul written all over it.
And here's where you'll shop:
French Garment Cleaners Co.
, a recently e-commerced sanctuary of handsomeness from a brick-and-mortar shop in Brooklyn, online now.
Based in Fort Greene and named for their building—which has brandished a giant neon sign of their namesake since the 1960s—this is the kind of site you'll scour for made-in-the-USA chinos, shorts, shirts and boots (aka summer Vineyard essentials).
The first things you'll notice: plenty of short-sleeve and oxford button-downs from Gitman Bros., some rugby-style shorts from Band of Outsiders, even some spiffy cotton shorts with little anchors on them from Engineered Garments. All of which you can transport in one of their green military rucksacks from Archival.
And when the temperatures drop at night, you'll want to wrap up in one of their cardigans or pullover sweaters from A.P.C. and S.N.S. Herning, along with trench-capped boots from a Chicago bootmaster.
Long walks on the beach require capped boots.