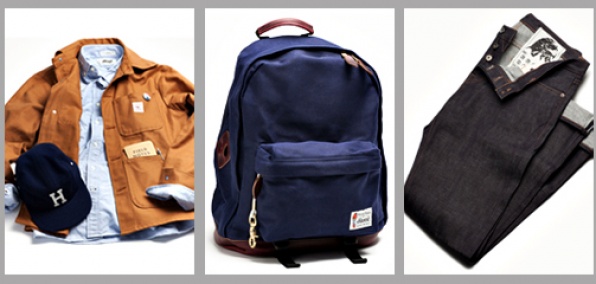 As a wise and very handsome man once said:

Ask not what your country can do for you—ask what kind of ruggedly dapper, high-quality goods you can acquire from your country.

Or something like that.

Hey, speaking of...

Give a star-spangled welcome to Hank, a new repository of high-quality stuff made right here in these United States, online now.

This is like one of those state quarters books, except instead of coins, you've got cozy sweatshirts from Oregon. And canvas rucksacks made in North Carolina. And jackets from a century-old factory in Tennessee. And... well, you get the idea. America. Freedom. Rucksacks. That whole thing.

But really, it's bigger than America. Because they're producing exclusive stuff with the upper echelon of American outfitters. Like Ebbets Field Flannels, who still make flannel hats like Mickey Mantle wore in the '60s. The jeans: from the revered LA denim aficionados at Rogue Territory. It's like the '92 Dream Team of handsomeness. (We'll let you sort out which one's John Stockton.)

Oh, and the next time you need a custom-painted canoe paddle, no worries: they went to Minnesota and found the perfect canoe artisans for the job.

We know you were worried.