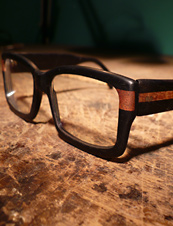 Daylight savings begins this weekend, and since we'd hate for you to miss one second of it squinting at all that blinding March sun, we've found you a little protection…
Introducing
The Godard
, new from Urban Spectacles and one of the most intriguing pair of shades we've come across in a while.
Think of the Godard as the Eames chair of your eyewear collection. One look at these babies, and you start to think about all those strokes of genius from the middle of last century, like beach parties, New Wave cinema and…smoking.
Inspired by French filmmaker Jean-Luc Godard, each pair is a one-of-a-kind, hand-carved creation born from fallen Ironwood hand-collected in the Arizona desert, so you don't have to worry about the guy next to you on Michigan Ave sporting them.
Not only that, but once you sign on for a pair of these, River North eyewear architect Scott Urban inputs your digital image and measurements into his computer, rendering a virtual image of you-plus-shades that you can tweak ad nauseum before he starts carving. (You know what they say, AutoCAD twice, whittle once.)
If you're not loving the Godards for some reason, the new line features nine other looks, each using a different exotic timber. We also like the
Faulk
, for instance: an ebony pair with hints of vintage Hawaiian surfboards, thanks to inlays of koa wood gathered from Hawaiian beaches.
If only Hawaii knew about sun…