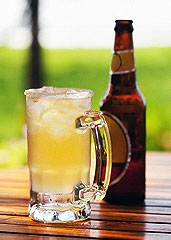 A lot can happen in one day.
Just ask Ferris Bueller.
Or Jack Bauer.
Or anyone attending this big beer festival.
Oh right, there's a big beer festival happening soon.
Clink glasses for
Untapped
, a one-day celebration of craft beers, live music and fried comestibles you'll visit for all the reasons we just mentioned, happening next Saturday in Fort Worth and selling tickets now.
If ever there were a day to wear sandals, dance around, drink beers and just generally let loose, this is it. So go. Or miss being neck-deep in folksy Americana (Justin Townes Earle, Sarah Jaffe), schnitzel-slinging food trucks and enough beers (about 200) to keep you occupied for a while. Well, for a day. But still.
Stop what you're doing and mark this on your calendar. Then, when the time comes, round up some friends, pile into the car and point due west. The scene before you: a magical wonderland of beer tables. Just so many beer tables. They're pouring hard-to-find brews from across the country. And those food vendors: they've got brisket, pizza, sliders and other necessities.
You'll eat. You'll drink. And then you'll notice that eight bands are playing all around you throughout the day. And also that you're standing on the bank of the Trinity River.
And... you really ought to pay better attention to things.