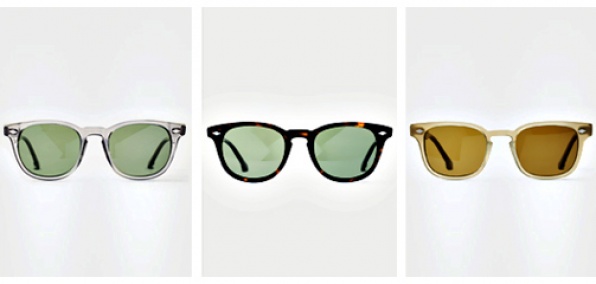 Your eyes.

Volumes of poetry have been written about them. Wars started over them. Entire businesses founded on the premise of improving them.

Actually... only one of the above is true. (That we know of.)

And that one is Steven Alan Optical, a new eyewear-only online operation from the New York–based dapperness specialists, ready to satisfy your every corrective-lens-based need right now.

Quality. That's what you're working with here. The frames: they're made with acetate from a 150-year-old Italian factory founded back when glasses were still made with actual turtle shells. The lenses: they're polished to obscene levels of crystal-clarity in a lens incubation facility in Brooklyn. And the screws: ... well, they're just screws. But still.

So head to their website. It's simple. Step one: choose between "eyewear" and "sunwear." Step two: peruse your options—named after fine two-syllabled gentlemen like "Clayton" and "Baxter." Step three: acquire your favorite, await its arrival and then proceed about seeing the world while looking more handsomely intelligent (and without squinting).

Oh, and if you can't make up your mind, you can pick six styles and try them on at home to narrow your options down. Because there's nothing quite like seeing them in real life.

Or, you know, in a mirror.