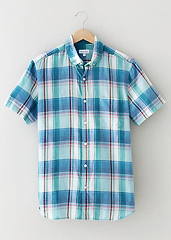 The Westside's having a bit of a moment right now.
Sort of a 15-minutes-of-fame deal, if you will.
Only replace 15 with "millions of."
And replace fame with "unspeakable handsomeness."
We guess what we're saying is: meet
Steven Alan
, the first Atlanta outpost of the New York–based dapper factory filled with the kinds of Bermuda shorts and striped crewneck-ery just begging for some type of rogue spring escapade, opening by Monday on the Westside.
Swing by here when you're in one of those drop-everything-and-go-anywhere-but-here states of mind. Sure, they've got "fancy" jackets for dire business situations. But they've also got handkerchiefs with little pink lemonades all over them. And boardshorts with cacti all over them.
So just go in there and act as if you're packing for someplace. Anyplace. Start at the floor-to-ceiling wooden box shelves. You'll find some tried-and-true numbers (indigo jeans from A.P.C., a mustard-colored rain jacket from Norse Projects). And hey, there's a cotton duffel bag for the flight over. And hey again, there's a floral Steven Alan shirt for when you land.
When you come across that pair of cobalt-blue shorts, hold them up. A wide-eyed and lovely assistant will pop out of nowhere with a baseball tee from Acne to go with them. "Here's a baseball tee from Acne to go with those," she'll say.
She's good. She's real good.