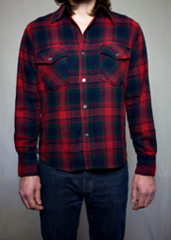 South by Southwest. That was fun.
The panels, the barbecue, the... vintage windowpane-plaid shirts that look like they were taken directly off Sam Elliott's back.
Well, we found a way you can relive it. Okay, only the plaid parts. But still.
Give a warm, torso-affirming welcome to
Sam Hill
, a new web-based shop out of Austin filled with old-timey chore coats, vintage varsity jackets and enough throwback flannel and plaid to feed an army (you get it), online now.
They're all very Paul Newman in
Cool Hand Luke
, these clothes. Military henleys brought back to life from the '40s. Red-and-white baseball jackets that look like something Mickey Mantle would've weekended in. That kind of thing.
And the flannel. God, the flannel. Pendleton. Woolrich. Wrangler. They're all in there. Not to mention the occasional waxed-canvas raincoat (for when it rains) and khaki-colored hunting vest (for when you're hunting or trying to look like you're hunting).
So maybe plan some type of activity that requires a beard. Maybe don't, and stand around a barbecue pit instead. Doesn't matter, just slap some of this on your body and feel good about it.
The looking-good part is more of a happy coincidence.