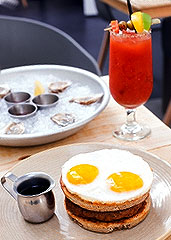 The day after somebody invented the wheel, everybody else must've felt pretty stupid.
It just... seems so obvious.
And now, after this weekend, there're going to be a whole lot of people wondering why they didn't already invent burgers with pancake buns.
Succumb to the majesty of the
Good Morning Burger
, an unholy new brunch burger residing between a couple of warm pancakes, launching tomorrow when littlefork's brunch kicks off.
Remember today. It was the last day of your life before you had a pancake burger. Then, tomorrow, go to littlefork and order the Good Morning Burger off their new brunch menu to ensure that previous sentence is true.
The patty: Kurobuta pork linguica. The buns: two pancakes, made with red cornmeal. The syrup—oh yes, there's syrup—is from Vermont, of course. And sure, why not, toss a sunny-side-up egg on top.
Yeah. You'll be needing to try that.
But on the off chance you care about
a single other thing on the brunch menu
, you could definitely start with some $1 Naked Cowboy oysters, and a couple rounds of
Bloody Larrys
(they're basically Bloody Marys with bourbon).
There's just something about Larry.