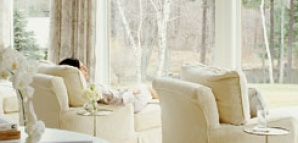 If ever you need a "Get Out of Jail Free" card, consider the new
Mayflower Inn Spa
in Connecticut.
Tucked away in rolling hills two hours away from Manhattan, the five-diamond inn is a serious getaway involving major sacrifice (read: no cell phone or
Blackberry
reception). The Mayflower is chock full of inn-like things that she will love and you can pretend to be excited about too (flowered bedspreads, miniature teacups and poetry gardens).
But your real redemption is the new 20,000 square foot Spa House, which looks like a stunning zen master's home. Get her loosened up with the
Seasonal Balancing Ritual's
milk exfoliation, remedy-oil bath, and herbal spritz or the
Mayflower Sweet Surrender
, a cranio-sacral acupressure with aromatherapy. You don't need to know what the hell any of that is—you only need to know that it's a surefire path to a fully gratified female.
Inner peace can also be sought through "Mind Spirit Activities" like
Blue Heron Insights
, a session to help you discover your personal roadblocks (we see a lot of potential for the Tree of Trust to bloom).
You can start making reservations now for the spa's July 15th opening, and with the Ultimate Weekend Plan (two nights' stay, meals, four treatments, and all the Blue Heron Insighting she wants), you'll be well out of any dog house you've ended up in.
After all, to err is human—but forgiveness comes with a big price tag.